Cała prawda o kawie
WP
|
aktualizacja
2011-05-10
(16:48)
5 lat 6 miesięcy 27 dni 10 godzin i 19 minut temu
|
62 opinie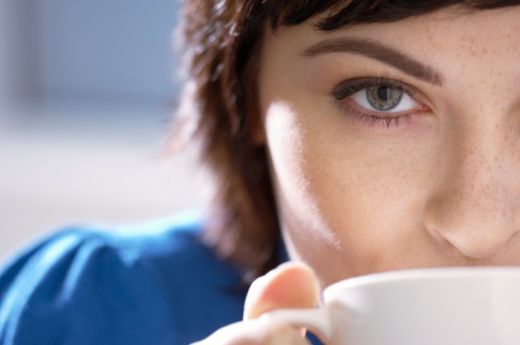 Większość z nas nie potrafi bez niej funkcjonować i nie wyobraża sobie innego rozpoczęcia dnia, niż przy filiżance gorącej kawy. To ona poprawia nam nastrój, dodaje energii, rozjaśnia umysł i pobudza do działania. Wokół tego ?magicznego napoju" narosło już wiele mitów. Jedni przestrzegają przed jej szkodliwymi skutkami, inni wychwalają dobroczynne działanie. Jak jest naprawdę? Co na temat kawy mówią dietetycy i naukowcy?
- Kawa w niewielkich ilościach (1-2 filiżanki dziennie) dobroczynnie wpływa na nasz organizm. Zawarta w kawie kofeina pobudza nasz organizm, pomaga usunąć oznaki zmęczenia oraz rozbudza umysł, ma również lekkie działanie przeczyszczające. Dlatego tak chętnie jest wybierana jako poranny napój. Należy jednak pamiętać, że kawa może różne oddziaływać na organizm. Spożywanie jej w dużej ilości może zakłócać gospodarkę mineralną organizmu oraz zmniejszać wchłanianie żelaza. Kawa również mocno zwiększa wydzielanie kwasów żołądkowych, stąd często po jej wypiciu możemy odczuwać pieczenie w żołądku lub przełyku. Najbardziej kwasotwórcza jest czarna kawa, więc na pewno zamiana białej kawy na czarną nie jest dobrym wyjściem, gdyż mleko zmniejsza działanie kwasotwórcze kawy - tłumaczy dietetyk
Marlena Jankowska
.
Co więc robić, by z kawy "wyciągnąć" wszystko to, co najlepsze i jednocześnie ustrzec się przed jej szkodliwymi skutkami?
- Radzę pić kawę z większą ilością chudego, naturalnego mleka a także przed skosztowaniem tego napoju zjeść większy posiłek. Kawy nigdy nie należy spożywać na czczo, gdyż przy częstych takich praktykach możemy nabawić się wrzodów żołądka - radzi
Marlena Jankowska
.
Naukowcy co chwila odkrywają kolejne dobre i złe strony kawy. Wiadomo już, że jej regularne picie obniża ryzyko cukrzycy typu 2, zachorowania na nowotwory jamy ustnej i gardła, może spowalniać rozwój wirusowego zapalenia wątroby typu C i pomóc w leczeniu demencji. Spożywanie kawy w umiarkowanych ilościach zmniejsza też ryzyko chorób serca. Naukowcy twierdzą także, że kawa chroni przed marskością wątroby i rakiem trzustki, neutralizując negatywny wpływ alkoholu, zmniejsza ryzyko zachorowania na raka piersi.
Badający kawę naukowcy są też przekonani, że zawarta w kawie kofeina może zapobiegać stwardnieniu rozsianemu, chronić przed chorobą Alzheimera, poprawia pamięć, obniża poziom kwasu moczowego we krwi , obniża ryzyko raka piersi u kobiet i niebezpieczeństwo zachorowania na raka macicy oraz zachorowania na chorobę Parkinsona, może także chronić przed rakiem skóry.
Niestety, naukowcy ostrzegają również, że częste picie kawy może mieć negatywny wpływ na płodność kobiet i zmniejszać szansę na poczęcie dziecka. Jej nadmierne spożywanie w okresie ciąży może również mieć negatywny wpływ na zdrowie płodu i być przyczyną poronienia.
Od kofeiny można się też uzależniać. Regularne picie kawy sprawia, że kiedy jej zabraknie, ciało upomni się o codzienną dawkę. Nie jest to jednak uzależnienie tak dramatyczne, jak w przypadku alkoholu. Jeśli postanowimy porzucić kawę czy inne napoje kofeinowe, już po kilku dniach organizm przyzwyczai się do nowej sytuacji.
Zapleni kawosze muszą również uważać na przedawkowanie swojego ulubionego napoju. Nadmierna ilość kofeiny prowadzi bowiem do zatrucia. Picie kawy nie wpływa także na zwiększenie przemiany materii, jak uważa większość z nas, nie jest więc dobrym sposobem na odchudzanie. Wręcz przeciwnie - kawa zwiększa apetyt, a dodatkowo podwyższa poziom hormonu, który powoduje, że na brzuchu odkłada się tłuszcz. A to ma niewiele wspólnego z chudnięciem.
Kiedy i jak pić kawę? Zdaniem naukowców "mała czarna" smakuje najlepiej o godzinie jedenastej. To właśnie wtedy nasze podniebienie jest najbardziej wyczulone na jej charakterystyczny smak. Aby móc w pełni delektować się tym aromatycznym napojem, bardzo ważna jest też odpowiednia oprawa - czyli oświetlenie, muzyka i towarzystwo. Co dziwne - kawa sprawia, że nawet irytujący zazwyczaj znajomi wydają się milsi, a życie nabiera radosnych kolorów.
ako
Polecamy również:
Rak od wędzonki
Rady na kaca: jedz i pij
Wyobraźnią można się najeść!
Mała czarna dla urody
Oceń
tak 13 76,47%
nie 4 23,53%